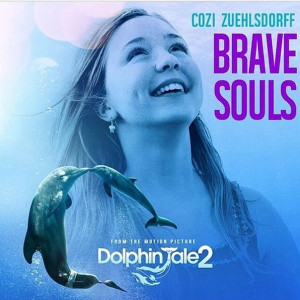 So this is an unsolicited music review. I'm reviewing an album because I want to share it with you, and it's hard to imagine you'll discover it any other way.
Sometimes you discover good music in the most strange ways, and as a parent of two young girls (5 and 7), I "discover" a lot of music through them. Much of it is music that I would never listen to of my own choice (The Wiggles, The Fresh Beat Band—made-for-TV bands that exist for kids and, while I don't think either is bad on its own terms, I never choose to listen to it by myself), but some of it is a cut above that, and I might even choose to listen to a song or two. For example, the kids' cartoon Sofia the First, on the Disney Channel, has a first-rate music director who writes high quality pop songs for the characters to sing. The actress who plays Sofia has a nice voice, and there are Sofia albums you can download that sound terrific and are a pleasure to listen to—if you don't mind subject matter that appeals to 7-year-old girls.
But that's not what I'm recommending today.
A little story: my kids saw Dolphin Tale II, the second movie about Winter, the Dolphin who lost her tail and learned to swim with a prosthetic tail, earlier this year. My then-4-year-old developed an obsession with dolphins, and for her fifth birthday, we took her to the Clearwater Marine Aquarium to meet the real Winter.
One of the movie's main characters is a roughly 15-year-old character named Hazel who helps her dad, the fictional head veterinarian at the Clearwater Marine Aquarium, look after the wildlife there. Of course, my daughters loved Hazel from the movie.
Well while we were at the aquarium last month, the aquarium's gift shop was selling a CD, Originals, made by Cozi Zuehlsdorff, the now-16-year-old girl who plays Hazel. I bought it for my girls, and also just out of my own curiosity. I wanted to hear what kind of songs this young actress would write, and what kind of voice she has. I confess: I expected the album to be pretty bad. Another young actress who thinks she can sing? And write? The songs would surely be immature and boring, both lyrically and musically, and the vocals would surely be heavily auto-tuned. The production would be semi-pro at best, I figured.
The prejudice against an album from a cute young actress in a wholesome movie is strong, and I suspect Cozi will be sailing against a bit of a headwind to be taken seriously as a musician. (Her impressive classical piano playing on this record should knock that idea down, however, and perhaps her being somewhat famous for the Dolphin Tale movies will counteract any prejudicial critical tendencies.)
Boy was my prejudice wrong. Thanks to my 5- and 7-year-olds for making me give this album a real chance—as in, at least 3 listens. For that's how long it takes to really know whether you like something.
And this 7-song collection is flat-out terrific, with intelligent lyrics (though written with themes that would appeal to a younger crowd), a vocalist who is doing way more interesting, and different, things than the Katie Perrys and the Miley Cyruses of our time, and, musically—both harmonically and melodically—this is shockingly sophisticated pop music.
Let's be clear: this is pop music, and it's written with a younger audience in mind. If, as an intelligent listener, understated indie-rock irony is the only flavor you like (and you know who you are), you're not going to hear any difference between this record and the latest offering by Taylor Swift. You're going to listen for 30 seconds and think you know what it's all about. You will be wrong.
Cozi and the obviously highly skilled producer Eric Berdon explore a multitude of different styles on this record. She starts with straightforward pop, with "Overruled"—one of the most melodically rewarding pop songs I've heard in the last 15 years (these used to be far more common). It's so melodically satisfying that it has virtually no chance of getting radio airplay today. That's why you need my review to learn about this record! The courtroom-based lyrical theme is a bit over the top, but give the kid a minute to grow as an artist, will you? It's still intelligent, and musically it's groovy, tasty, sophisticated pop.
There are more folky—possibly even with a hint of Irish folk—singer-songwritery offerings, and again the writing is strong, memorable, catchy, and sophisticated.
My personal favorite is a hypnotic dance track called "Turn the Light On." A haunting, beautiful, and again, fully crafted and developed melody in the chorus of this song will play in your head for hours without driving you crazy. Cozi's voice sounds ethereal, musical, and not overly processed. This kid is the real deal.
Even the swing-and-miss attempt at hip hop, "My Jam," has grown on me. I think Cozi herself realizes it's a bit silly for her to try to sound convincingly hip-hop, as some of the lyrics in this one are ironically self-reflective. ("As I pop and I lock in my robe and fuzzy socks…") And again, the melody is highly singable.
If Cozi Zuehlsdorff can be taken seriously as a musician and gain some traction, I see a career shift for her. She's a fine actress, but at her age, this is seriously impressive. Of course, my girls absolutely love this music and see Cozi as a hero and a role model. They love Katy Perry and all that other stuff too, and so it pleases me that they are falling in love with a more sophisticated brand of pop music, and from an artist who projects an ordinary-American-girl image that's not hypersexualized.
And although the lyrical themes don't speak directly to people my age, it's easy to get past that. I'm happy to crank up these tunes and sing along with them when my kids are not around. (They won't let me sing along when they're in the car).
I really love it when this happens. Through some unimaginable series of events, I've come into possession of a CD I really love—a CD I did not expect to love. Cozi Zeuhlsdorff is quite obviously a cut above other young pop singers, in musical and vocal talent, in her overal depth as an artist. She's going to do really amazing things if she keeps this up, and this is a richly enjoyable start. HIGHLY RECOMMENDED, EVEN FOR ADULTS, but GIVE IT A DAMN TRY BEFORE YOU CONCLUDE IT'S JUST KIDS' MUSIC. THREE LISTENS.